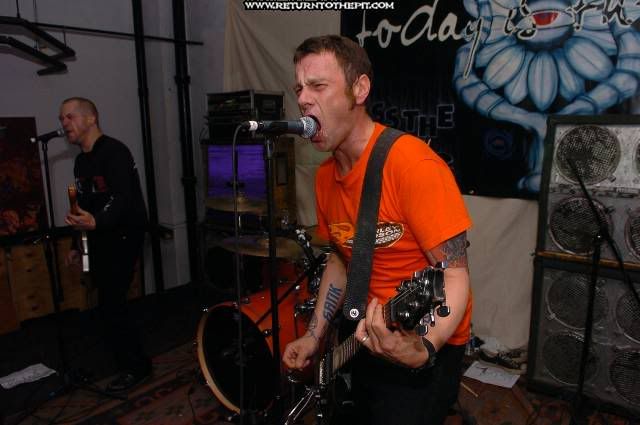 Steve Austin has just completed the film version of his album Axis Of Eden. Over the past 3 years, Austin worked with director David Hall to produce a film that will be shown above the band, so that the performance and the movie interact. No word on when this will be available for purchase but here is what to expect:

"Within a six-month period, Eve Edwards loses her six year old daughter to cancer, and her husband is brutally murdered by an axe-wielding transsexual. In the throes of great personal tragedy, she turns to sex, drugs and cannibalism to help ease her pain. In no time she finds herself at the bottom of an ugly downward spiral"

Should be quite an uplifting show.
Here are the dates. Touring with WEEDEATER and BLACK COBRA:
Nov 1 2008 9:00P
Drunken Unicorn w/ Black Cobra Atlanta, Georgia
Nov 2 2008 8:00P
The Soapbox Laundro lounge Wilmington, North Carolina
Nov 3 2008 6:00P
Alley Katz Richmond, Virginia
Nov 4 2008 8:00P
Sonar Baltimore, Maryland
Nov 5 2008 8:00P
Knitting Factory w/ Love 666 New york, New York
Nov 6 2008 8:00P
Millcreek Tavern Philadelphia, Pennsylvania
Nov 8 2008 8:00P
The Blue Moon Toronto, Ontario
Nov 9 2008 8:00P
Les Foufounes Electriques Montreal, Quebec
Nov 10 2008 8:00P
Club Hell Providence, Rhode Island
Nov 11 2008 9:00P
31st St Pub Pittsburgh, Pennsylvania
Nov 12 2008 8:00P
Bug Jar Rochester, New York
Nov 13 2008 8:00P
Grog Shop Cleveland, Ohio
Nov 14 2008 9:00P
Mac's Bar Lansing, Michigan
Nov 15 2008 9:00P
Turf Club St Paul, Minnesota
Nov 16 2008 9:00P
The Metal Shaker Chicago, Illinois
Nov 17 2008 8:00P
The End with Zoroaster Nashville, Tennessee
Nov 18 2008 7:00P
Fubar St Louis, Missouri
Nov 19 2008 8:00P
Downtown Music Little Rock, Arkansas
Nov 20 2008 7:00P
The Marquee Tulsa, Oklahoma
Nov 21 2008 8:00P
Reno's Chop Shop w/ Zoroaster, Trampskirts & Admirals Club Dallas, Texas
Nov 22 2008 7:00P
Red 7 with Zoroaster Austin, Texas
EDIT* - Here is an interview with Steve. I've made it about halfway through and I'm going to bed but so far it's fantastic. Read it here