this record came out today in 1993. i'm sitting here trying to remember why the hell i ever listened to it in the first place and i can honestly say i have no idea. then i started thinking about how i checked out new music before the tubes of the internet were created, and how much harder it was. i would read through the 'thank you' sections of liner notes and find the coolest band name and then go buy the cd. half the time it was a total waste of money. i also used to buy cds based solely on the cover art... well, i still do that sometimes.
anyway, a lot of the 'noise' stuff the butthole surfers released was too weird for me but i fucking love this album. it's much more straight forward and way more accessible than pretty much anything they released prior to it.
fun fact... john paul jones from zeppelin produced this.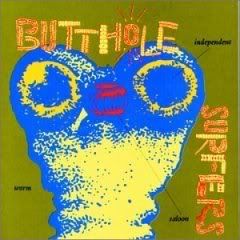 1. "Who Was in My Room Last Night?" – 4:09
2. "The Wooden Song" – 3:50
3. "Tongue" – 2:06
4. "Chewin' George Lucas' Chocolate" – 0:43
5. "Goofy's Concern" – 3:03
6. "Alcohol" – 3:19
7. "Dog Inside Your Body" – 3:06
8. "Strawberry" – 4:08
9. "Some Dispute Over T-Shirt Sales" 2:06
10. "Dancing Fool" – 2:59
11. "You Don't Know Me" – 2:41
12. "The Annoying Song" – 2:40
13. "Dust Devil" – 6:39
14. "Leave Me Alone" – 2:25
15. "Edgar" – 3:34
16. "The Ballad of Naked Man" – 6:05
17. "Clean It Up" – 8:39
listen
to it.