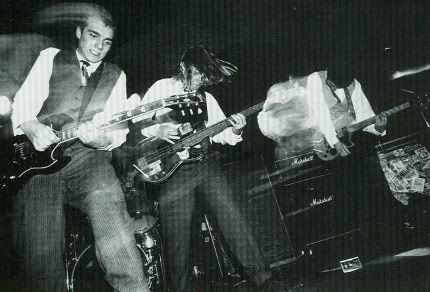 from that disaster of a website, Pitchfork:
"Seattle proto-emo heroes Sunny Day Real Estate have broken up twice, in 1995 and 2001. But they're back together again for a North American reunion tour, and this time, all four original members are on board.
After the band's 1995 breakup, bassist Nate Mendel and drummer William Goldsmith joined Dave Grohl's Foo Fighters. When Sunny Day got back together in 1997, Goldsmith rejoined, but Mendel remained a Foo. This time, though, Mendel is back in the fold.
In a statement from Sub Pop, Mendel said, "I wasn't around for the second version of the band that recorded the third and fourth albums, so I've always had a feeling of unfinished business there. We had all these outsized ideas back then, 'Everyone's going to learn a new instrument,' and 'Let's do a rock opera,' but before we could get anywhere with them, the band broke up. We left behind all these weird and beautiful songs, though, and they've stuck with me all this time. I'm really happy that we get a chance to play them together again."
The reunion tour kicks off September 17 in Vancouver, and yes, they will play California. To celebrate, on September 15, Sub Pop will reissue the band's two original-lineup albums: the stone classic 1994 debut Diary (one of the best-selling albums in Sub Pop history) and the 1995 follow-up LP2 (better known as The Pink Album). The reissues will include bonus tracks and new liner notes. This is going to rule."
Dates below.
09-17 Vancouver, British Columbia - Commodore Ballroom
09-18 Portland, OR - Crystal Ballroom
09-20 Murray, UT - Murray Theater
09-21 Denver, CO - Ogden Theater
09-23 Minneapolis, MN - First Avenue
09-24 Chicago, IL - Metro
09-25 Detroit, MI - St. Andrew's Hall
09-27 New York, NY - Terminal Five
09-28 Boston, MA - House of Blues
09-30 Washington, D.C. - 930 Club
10-01 Philadelphia, PA - Trocadero
10-03 Atlanta, GA - CW Center Stage
10-05 Dallas, TX - Granada Theater
10-06 Houston, TX - Warehouse Live - Ballroom
10-07 Austin, TX - La Zona Rosa
10-09 Tempe, AZ - Marquee
10-10 Anaheim, CA - House of Blues
10-11 Los Angeles, CA - Henry Fonda Theater
10-13 San Francisco, CA - The Fillmore
10-15 Spokane, WA - Knitting Factory
10-16 Seattle, WA - Paramount Theater
I know where I will be on October 1st!!
Here is their last album if you've never heard them. Released in 2000.
The Rising Tide