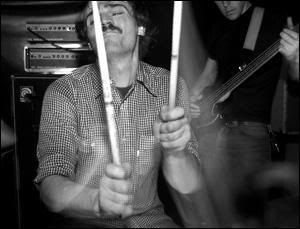 I was sitting in horrendous traffic after the Eagles game on sunday night when I got an email from Todd with the same subject as this post and I was shocked. Jerry Fuchs, drummer extraordinaire, was dead at age 34.
Brooklyn Vegan
has some additional info about it as well as some great videos of him doing what he loved.
Gerhardt Fuchs grew up playing the drums in Georgia and went on to perform with bands that toured across the country, but it was in Williamsburg, Brooklyn, that he forged his reputation as a dynamic, driving drummer widely esteemed by his peers.

And it was in that same neighborhood, in the shadow of the Williamsburg Bridge, that Mr. Fuchs, known as Jerry, fell to his death on Sunday morning [11/8] in the elevator shaft of an industrial building on Berry Street. - NY Times
I didn't know Jerry but I was lucky enough to see him play about 2 months ago when Maserati came through Philly. In the brief conversation I had with him following the show it was incredibly easy to tell what a kind and genuine person he was. RIP.